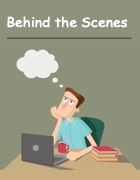 Here are links to a couple of articles I've shared with patrons about my life as a writer and my writing process.
Paul's writing journal: Sneaking up on creativity – I recap how things fell into place for me one day while writing a chapter in my latest book. And I consider what I learned about creativity.
Thinking inside the box: A counterintuitive approach to storytelling – Sometimes the most creative solutions come when we restrict our options. I give some examples.
Subscribe to Behind the Scenes and get Creative Morsels free
---
Patreon was created to help creators like me connect directly with their audiences and secure a more consistent stream of income for their work. The monthly pledges I receive from patrons help pay for just some of the thousands of hours that I put into writing books, usually without any guarantee of compensation.