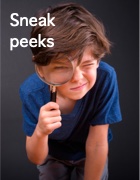 You can read the first two chapters of my yet-to-be-published novel, Weekend Pass, for free. But patrons who subscribe to Sneak Peeks can read the entire manuscript before the book is released to the public.
Subscribers to Sneak Peeks also get Behind the Scenes and Creative Morsels for free.
---
Patreon was created to help creators like me connect directly with their audiences and secure a more consistent stream of income for their work. The monthly pledges I receive from patrons help pay for just some of the thousands of hours that I put into writing books, usually without any guarantee of compensation.