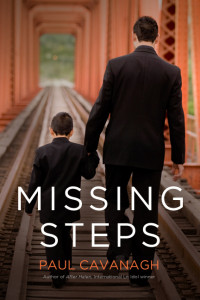 What's better than a party? Why, a party with a cause, of course.
To celebrate the launch of my second novel, Missing Steps, I'm holding a celebration at the YOU Made It Cafe in this London (Ontario, that is). Come drop by between 7:00 and 9:00 pm on Wednesday, April 29 for thematic hors d'oeuvres and great conversation.
The $10 admission goes to Youth Opportunities Unlimited (YOU), a registered charity that supports youth to build skills, confidence and independence to reach their potential. It operates in several locations in London and Strathroy.
Copies of Missing Steps will be on sale at the event for $20 (tax included). Cash sales only. That's a saving of more than 20% off the cover price. I'll be happy to sign your copy.
Buy your tickets online through Eventbrite.
The YOU Made It Cafe is conveniently located right across from the VIA Rail station for those of you considering traveling in from out of town.
Can't make it? You can still buy the book through NotThatLondon.com. Or use the online registration form to make a donation to YOU.