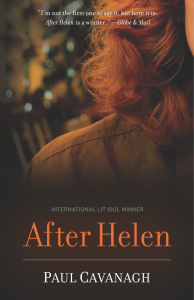 After Helen, the novel that won me the Lit Idol title and garnered great reviews when it was published in Canada in 2006, is at long last available to readers across the world this week.
Anticipation is building. Here are a few easy ways for you to get on board.
---
The official international release of After Helen happens this Thursday, November 20 and there are plenty of ways to get involved.
Publicity, particularly in the UK, is starting to heat up. One promotion that I'm really excited about is Books on the Underground. On Monday, November 24, forty copies of After Helen will be left on trains in London's Underground system for readers to discover. (Yes, that's the big London. We don't have a subway system in my London.) I'll post pictures when it happens. I can also send you email updates to keep you apprised of other events, news coverage and reviews.
With Christmas approaching, don't forget that After Helen can make a great gift for the fiction readers on your list. I've compiled links to major booksellers who are carrying it. It's available in both print and e-book formats.
My friend Sheila Warnock, co-author of Share The Care, posted a wonderful review on Amazon.com and Goodreads.com. (You can also see it on Amazon.co.uk.) Posting your own review is a great way to let everyone know what you think of the book. Not into writing reviews no matter how brief? No problem. Feel free to share the Amazon or Goodreads links for the book with people you think might be interested.
Speaking of Goodreads, check out the Ask the Author feature on the After Helen Goodreads book page. It's your chance to ask me a question about the book, the process of writing it, the Lit Idol experience, or pretty much whatever you feel like.