I got my big break as a writer when I won the Lit Idol competition at the London International Book Fair in the UK. Almost 1,500 people entered from around the world. Five finalists were chosen. All were Londoners. I was the only one not from the "real" London.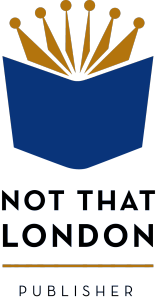 Until now, my first novel, After Helen, has only been published in Canada by HarperCollins. To get my book to an international audience, I realized I was going to have to form my own publishing company. When it came time to give the company a name, I chose to remind people where I was from. I went with Not That London.
People generally get a kick out of the name. But I don't want the company to be remembered simply for its cheekiness. I want people — including book reviewers, journalists, major bookstore chains, and readers like you — to recognize that I put out books that have the professional look and feel of literary works produced by big publishing houses.
That's why I hired an experienced book designer, Tania Craan, to create a new cover for the international edition of After Helen. It's also why I engaged another talented graphic designer, Michael Arismandez, to develop a logo for my company.
Take a moment to explore this recently redesigned website. I've tried to keep the design clean and professional.
If you'd like to provide feedback, you can do so below.