Choosing A Title for My Second Novel
As I said in my previous post, books are tricky things to name. Until now, I've been calling my second novel (due for release in Spring 2015) Our Fathers' Sons. Before I committed to that title once and for all, I gave readers a story synopsis, a list of alternative titles, and asked their opinion.
About a third of responses were in favour of the original title. There was a smattering of support for a few alternative titles. And there were a few new suggestions.
A search of Amazon.com revealed that many of the new suggestions were titles frequently used by other books. However, I riffed on them to see if I could come up with something fresh and original. For about a week, I didn't have much success. As of yesterday, I was inclined to go with the original title. However, this morning I came up with a new possibility: Missing Steps.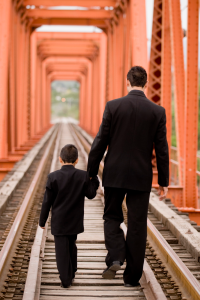 I received a number of title suggestions that used the idea of following in father's footsteps (presumably because the very first sentence of the story synopsis says that Dean, the main character, doesn't want to follow in his father's footsteps). Although the idea has been used in several other book titles, I decided to see what I could do with the word "steps." There's a critical event in the story (not described in the synopsis) when Dean's father falls down a set of steps. When I scanned my manuscript, I realized that the word appears a surprising number of times. So it seemed there was something there worth exploring.
I brainstormed what other words I might combine with "steps" in the title. The word "missing" actually came from another title suggestion.
Missing Steps appeals to me because it ties into the story on several levels. Dean's father's near fatal fall down the front steps when Dean tips him off balance. The steps of grieving that Dean doesn't work through. The new emotional footwork that Dean has to learn as he's drawn back into old family battles.
I'm interested in your reaction. Does this title appeal to you? (Comments are being solicited here on my website and through an email campaign.)
To refresh your memory, here's the story synopsis again:
Dean Lajeunesse doesn't want to follow in his father's footsteps. He's barely pushing fifty, but his memory is starting to fail him. He vividly recalls how dementia whittled away at his father and doesn't want his own teenage son, Aidan, to see him lose his mind. Of course, he could just be overreacting. Maybe it's the stress of his on-again-off-again relationship with Valerie, his long-time live-in girlfriend, or the feeling that he's not measuring up as a father that's making him absent-minded. But before he can understand what's happening to him, he's dragged home to the bedside of his crusty, ailing mother, on whom he turned his back decades before. There, he butts heads with his older brother, Perry, who has remained loyal to their mother and has succeeded in almost every way that Dean hasn't. As old family tensions bubble to the surface, Dean must try to hold on to Aidan's respect as he's compelled to reveal long-kept secrets about his father – and himself.